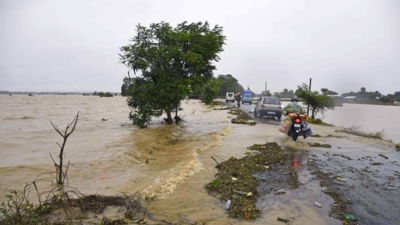 A road is damaged due to floods after heavy rainfall at a village, in the Nagaon District of Assam on Friday (ANI)
NEW DELHI: The toll in Assam floods has gone up to 73, with 11 more deaths reported in the last 24 hours. Nearly 42.28 lakh people have been affected in 33 districts in the state. A total of 127 revenue circles and 5,137 villages have been impacted.
Two policemen involved in rescue operations were washed away by floodwaters on Sunday, state officials said. The incident took place in Kampur area late Sunday night. They said about 200,000 people were taking shelter in 700 relief camps.
An inter-ministerial Central team to visit flood-hit areas of Assam, Meghalaya to assess damage, Union home minister Amit Shah said. He spoke to chief ministers of both states on Monday.
Major rivers like Brahmaputra, Barak and Kopili are flowing above the danger mark at several places in Assam.
Flooding was reported from the urban areas of Barpeta, Cachar, Darrang, Goalpara, Kamrup (Metro), Karimganj, Nalbari and Udalguri, while landslides trigerred by heavy rains have taken place at Cachar, Dima-Hasao, Goalpara, Hailakandi, Kamrup (M) and Karimganj districts during the past 24 hours, the bulletin said.
NDRF has been helping the district administration in the safe evacuation of people from affected areas apart from state forces and volunteers.
So far 29,743 people have been safely evacuated. Landslide incidents were reported under Cachar, Dima-Hasao, Goalpara, Hailakandi, Kamrup (M) and Karimganj in the last 24 hrs.
Chief minister Himanta Biswa Sarma said his administration is using military helicopters to airlift food and fuel to badly affected parts of the state. He held a meeting with the Deputy Commissioners (DCs) and the Sub-Divisional Officers (Civil) – SDOs on Monday to review the flood situation and disaster preparedness.
In Kaziranga National Park (KNP) eight animals – seven hog deers and a leopard have died due to drowning and vehicle hit. Ten others, including eight hog deers and a python have been rescued by forest officials, KNP official said.
FOLLOW US ON SOCIAL MEDIA
FacebookTwitterInstagramKOO APPYOUTUBE