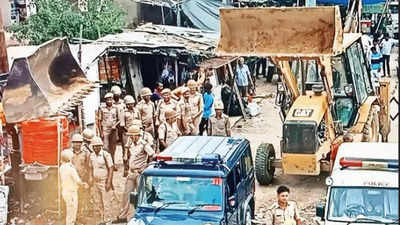 AGRA: In perhaps a first, bulldozers – which have now become a symbol of the Yogi Adityanath government's "stern" stand against protestors in UP – were part of a flag march taken out by the Aligarh police on Monday. The march came close on the heels of violent anti-Agnipath protests in the city that saw a police post and a vehicle being torched by protestors three days ago.
Though some senior police officers denied the presence of the machines, the bulldozers are clearly visible in photographs and videos available with TOI. Local residents said the bulldozers were there along with police vehicles for "everyone to see".
Aligarh SSP Kalanidhi Naithani claimed he had "no idea how bulldozers became a part of the police convoy or where they came from". SP (rural) Palash Bansal said there was some "confusion". "We had no intention of using them," he added.
Bulldozers were part of a flag march taken out by the Aligarh police on Monday.
A local resident who owns a shop at Gomat chowk, where the police took out the march, said, "It seems that cops wanted to create fear among the public after the violent protests two days ago. They were roaming around with bulldozers but no demolition took place. All shopkeepers closed their shops due to panic after cops gathered in large numbers." He wished to remain anonymous.
Rahul Kumar, the owner of a cosmetics store in the area, said, "Police stayed with the bulldozers for almost two hours. The bulldozers certainly seemed to be a part of the police convoy."
Muslim leader and former SP MLA Zameer Ullah Khan said, "Perhaps local residents got scared after seeing a huge police force along with bulldozers. However, this was just a balancing act. This exercise was perhaps an attempt to show that cops are not biased and that they can bring out the bulldozers against any group." Another local leader, Salman Shaid, said, "This is a new way for cops to terrorise people. Why did they bring in so many bulldozers when there was nothing to demolish?"
Meanwhile, 11 coaching institute operators, including local BJP leader Sudhir Sharma who owns the Young India Coaching Institute, were taken into custody for "instigating" Army aspirants. Sharma, who works as a mandal adhyaksha in Tappal, has been expelled by the party, confirmed district president of the BJP, Rishipal Singh.
FOLLOW US ON SOCIAL MEDIA
FacebookTwitterInstagramKOO APPYOUTUBE